What is the future?
The future of fashion . Where do I begin , there have been various researches surrounding what we are going to wear in the next 50 – 100 years . The space age tale of rubber suits and temperature censoring fabrics, however practically what will be the future of fashion and garment making?
The Experiment
I conducted a questionnaire to discover if any of my peers actually knew the answer to my ever-burning question . Here are the results:
I asked 5 people these questions :
Have you heard about 3D fashion?
3 out of 5 answered No
Have you heard about Kinematics?
4 out of 5 answered No
Do you believe that whole dresses can be 3D printed?
Most answered Yes declaring that "We have enough creative people in the world to create a 3D dress "
The Mystery Dress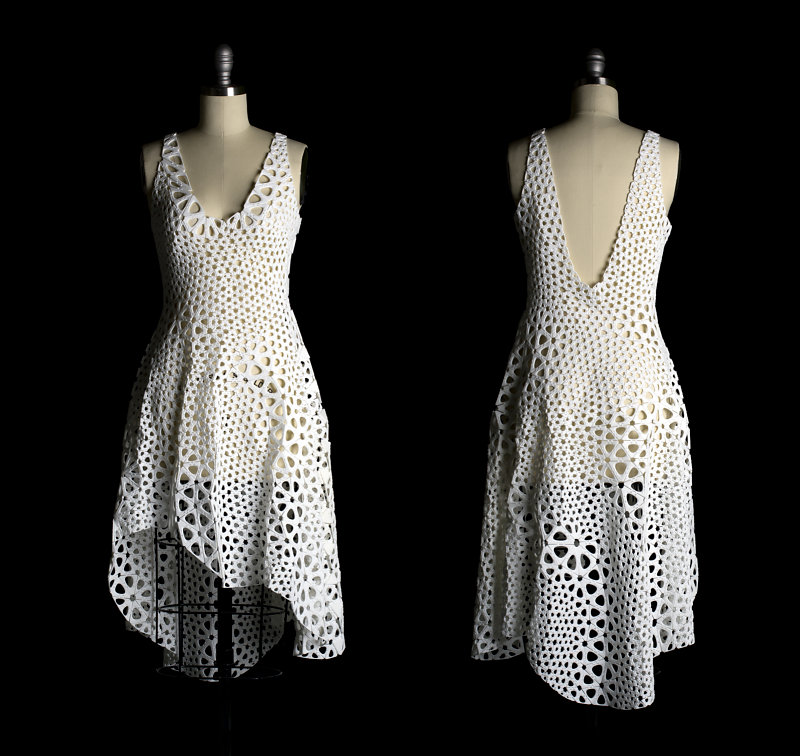 Later on I asked them if they knew how these dresses were made .A simple enough question you might say ; despite this all of them answered incorrectly ; stating that the dresses above were knitted / handmade with a sewing machine .
Now you are probably wondering: How can they be wrong ? Dresses are made from fabric and thread . Not this one . The dresses were produced by Nervous System using Kinematics to 3D print the whole garment .
What is Kinematics?
You might have heard about Kinematics with robotics ; it is a system for 4D printing that takes whole structures and makes them into foldable forms . Kinematics turns 3 dimensional shapes into flexible structures with 3D printing . Surprised ? (So was I !)
Kinematics lets us to produce beautiful designs like the one above and compose them into ten to thousands of "…unique components that interlock to construct dynamic mechanical structures. Each component is rigid , but in aggregate they behave as a continuous fabric."(Nervous System)All these designs do not have to be assembled after printed which means that they literally work out of the machine .
What did Nervous system do?
Nervous System did exactly that ;" designers Jessica Rosenkrantz and Jesse Louis-Rosenberg created a completely wearable dress that prints in one single folded piece. It is made of thousands of panels connected by hinge joints and fluidly folds and conforms to the body as it is worn. Both the dress and Kinematics software have been acquired by the Museum of Modern Art for their permanent collection" (Shapeways)
Who are Shapeways ?
Shapeways is a 3D printing company that helped Nervous System to bring their ideas to life !
"We are a marketplace for designers to upload and sell their 3D designs. Anyone can buy the products and anyone can upload designs, even if they don't have experience in 3D modeling. We offer a bunch of tools everyone can use to turn their ideas into
reality. So a fashion designer who wants to incorporate 3D printing into their designs could upload the design and print it using our service." – Shapeways
How can designers get involved ?
Not just Designers , anyone ,anyone with an idea and wants to fulfil it . Shapeways have many Additive manufacturing techniques . If you are interested in working with Shapeways to achieve a 3D printed product I recommend that you check out their website.
How does this shape the future of fashion?
The use of Kinematics to create whole garments have pushed the limits of fashion deepening the idea that today's technology and understanding of materials can change the way we view fashion . You never know in a few years all the clothes in fashion week could be produced through Kinematics . The possibility of 3D printing is endless ; we just need to find new ways to use it to  further develop our society . This is just another reason why I am proud to be a millennium child !
Why not get involved  :
#shapethefuture with an image of the Kinematics dress on social media !
.Let's shape the future a design at a time .
LaFortune xx
Comment : Where do you see the fashion industry in 50-100 years time ?